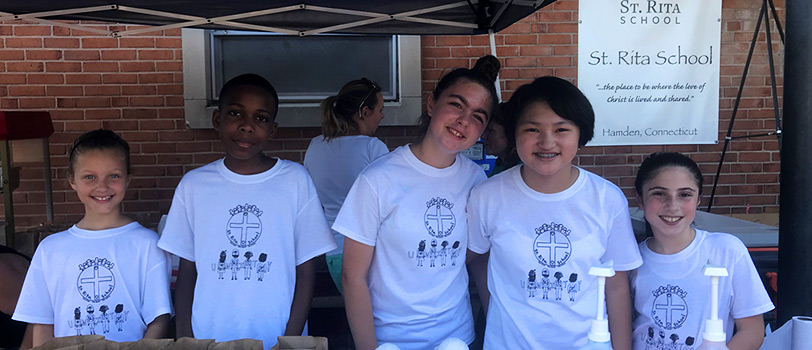 HSA Fundraising Goals
We have goals, and we have fantastic families and community members helping us achieve them! We encourage you to check back often for updates. Thank you.
Walkathon - October 16
The Annual Walkathon is the first fundraising event of the year and a great opportunity for the St. Rita students to become involved in the support of their school. Each student is able to be sponsored by donations and participate in the walk that is held every year. The donations that students raise help to make a difference at the St. Rita School. Once the walk is completed, all walkers participating head back to the school parking lot for a fun family picnic.
Total Raised: $24,000
Yankee Candle - October 18-November 4
Over 150 items to choose from priced from $6.00 to $28.00, Yankee Candle® Fundraising provides products that are high quality that people recognize, trust, and will be proud to give as a gift or a treat for themselves.
Total Raised: $4,570
Book Fair - November 7-10
The Scholastic Book Fair is an in-school event that brings the joy and excitement of reading right to students. With the look and feel of a bustling bookstore, this week long event features mobile cases full of affordable books based on characters and subjects kids love and want to read about. From newly released books and best sellers to award-winning titles and perennial favorites, every book is hand-selected by Scholastic experts and chosen from dozens of other publishers.
Total Raised: $1,666
Square 1 Art - November 10-December 22
This fundraiser focuses on the accomplishments of the student, creates conversations between parent and child, as well as memorable keepsakes family members can't resist. When all is said and done, the child's creativity is affirmed, the parents have a lasting memory, and the school raises valuable funds.
Total Raised: $2,957
Nut Coupon - November 30-December 9
There are five fun themed days, one each month starting January through May where our students can dress the part without putting on their SRS Uniform.
Total Raised: $4,800
Online Auction - February 17-March3
The St Rita School Silent Auction is part of the 60th Anniversary fundraising event to raise money for the school and help bridge the gap between the tuition and actual cost to educate our children. These funds play a significant role in enabling St Rita to continue to provide the highest quality educational environment.
Total Raised: $6,425
Family Assessments
Families who elected to pay instead of participating in various fundraising events where a portion of the money raised will directly be applied to their assessments.
Total Raised: $17,981
Spirit Wear
We have custom St. Rita School items available such as t-shirts and sweatshirts, duffle bags, tote bags, and magnets to show our school pride. There are various items to choose from.
Total Raised: $1,634
Spring Candy - February 28–March 18
We have a wide selection of festive candies, chocolates, snacks, and cheeses for the spring season.
Total Raised: $717
Father and Daughter Dance - March 10
We provide an evening of fun and laughter with lots of food and some dancing. This event brings fathers and their girls closer together.
Total Raised: $1,400
School Play
We have a theatrical production presented at the school which features fifth through eighth grade students as the principal actors. This year's school play was School House Rock Live Jr.
Total Raised: $7,750