Crusader Camp 2023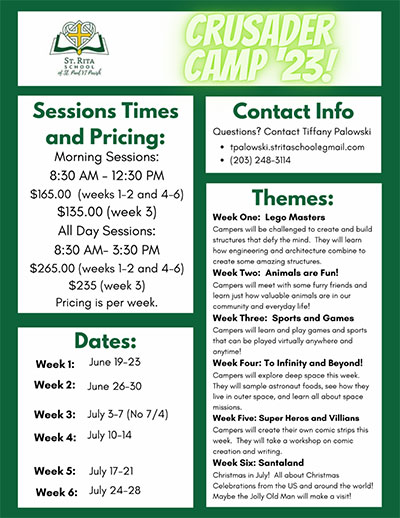 Our fun-filled summer camp will be filled to the brim with fun! Each week will feature a different theme for our campers to enjoy! Pick one week or all six!
Week 1: Lego Masters
June 19–23
Week 2: Animals are Fun!
June 26–30
Week 3: Sports and Games
July 3–July 7 (Except July 4)
Week 4: To Infinity and Beyond!
July 10–July 14
Week 5: Super Heroes and Villains
July 17–July 21
Week 6: Santaland
July 24–July 28
Sessions run Monday to Friday except for the day of July 4. Arrival is at 8:30 a.m., and pick up is at 12:30 p.m. for morning sessions and 3:30 p.m. for all-day sessions.