HSA Fundraisers & Events
We have goals, and we have fantastic families and community members helping us achieve them! We encourage you to check back often for updates. Thank you.
Help Us Earn Cash and Supplies with Free Rewards Programs
Each year, St. Rita participates in several rewards programs. Local grocery stores (and Amazon!) allow you (the shopper) to identify St. Rita as the school you'd like to support; every time you shop, we get a percentage of the sale in the form of points (that can be used for school supplies) or cash. Last year, we earned over $1000 through Stop & Shop's program and over 130,000 points through ShopRite! We have big goals this year, and we need your help to achieve them. Please click on the links below to register your store cards, and ask your local family and friends to do the same!
Visit amazonsmile.com, and anytime you purchase an eligible item, Amazon will donate a portion of the profit to our school! Select "Divine Mercy Parish Corporation" as your charity, and St. Rita School will benefit every time you shop.
Link your Stop & Shop Card to St. Rita School, and we'll earn cash when you buy groceries! Visit Stop & Shop online and use School ID: 06434.
Link your ShopRite Price Plus card to St. Rita School, and help us earn school supplies! Sign up with ShopRite online and use School ID: 50073, or email your PricePlus card number to Alice Kuether.
Thank you for your support!
Fundraising Goal: $33,000
After reading about the various fundraisers and volunteer opportunities, we encourage you to sign up by emailing us. We believe there is something for everyone here at SRS. Thank you for your participation and being part of the St. Rita School Community!
Father-Daughter Dance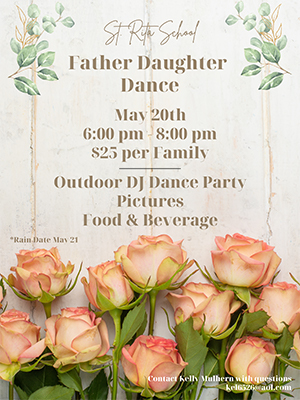 Trunk or Treat
Yes, that's right! Trunk or treat is back and better than ever. Join us for our HSA Trunk or Treat on Friday, October 29. Car decoration and setup will begin at 5:00 p.m., and children may enjoy trunk-or-treating between 5:45 and 6:45 p.m. We hope to see you there!
50/50 Cash Raffle Winner
Congratulations to Susan Criscuolo who is our winner of the 50/50 cash raffle and $2,470! Thank you to everyone who supported this HSA fundraiser.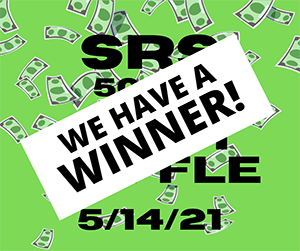 HSA Mums Sale
September 22–September 23, 2021
It's that time of year again for our famous autumn mums sale. This year there are three ways to order. View the Mums Pre-Order Flyer for more information.
Ice Cream Social and Movie Night
September 24, 2021
Join us for our first annual ice cream social and movie night on Friday, September 24. The ice cream social begins at 6:00 p.m. and Disney's Luca begins at 7:00 p.m. More information is coming soon.
Shred Day
Date TBA
The truck is back. More information to follow.
Raise Craze: Fundraising through Kindness!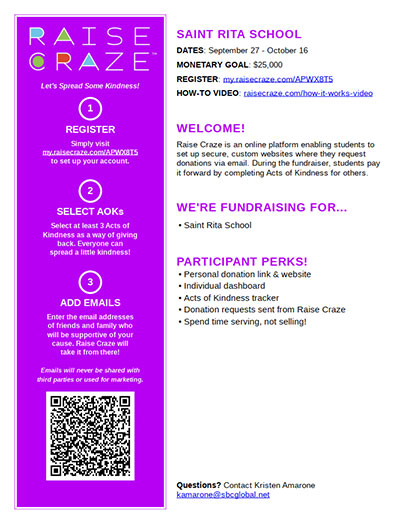 Welcome to our Raise Craze fundraiser 2021! This is a unique way for us to raise money for our school while making an impact in our community.
During this fundraiser, students ask friends and family for donations via the online Raise Craze platform while paying it forward serving others. What a great way for us to teach our students the importance of kindness and gratitude while raising much-needed funds! Students will spend time serving, not selling.
Visit our registration link to get started.
Enter your student's name.
Select at least three acts of kindness.
Enter five to ten email addresses of potential supporters.
Raise Craze will send all emails, reminders, and thank you notes. Raise Craze will never share your email with third parties or use it for marketing.
Our fundraiser at a glance:
Dates: September 27 through October 16
Our goal: $25,000
Schoolwide service projects: Collecting non-perishable food items for the Divine Mercy Food Pantry
Every student can participate in Raise Craze by completing acts of kindness (AOK), so we're aiming for 100% participation.
Need help getting started? Check out the Raise Craze flyer and instructional video or contact Kristen Amarone via email.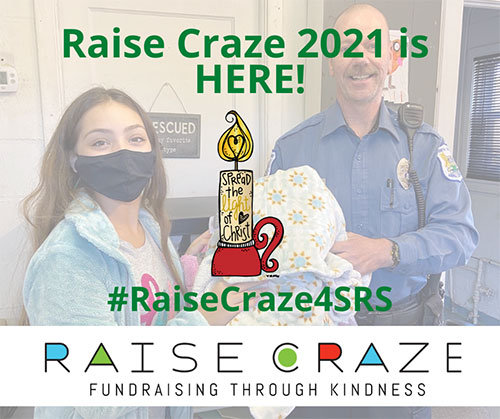 Shred Day Results
Thank you to everyone who participated in our shred day event. We earned $1,440 and cannot thank everyone enough!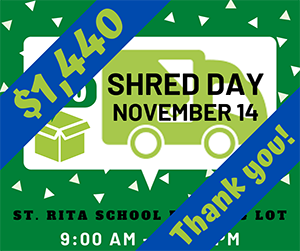 Square 1 Art Fundraiser
November 2020
Square 1 Art will replicate your child's artwork on keepsake items. A great way to start your Christmas shopping!
Online Auction and Tuition Raffle
Saturday, February 27
St. Rita School's online auction will be on Saturday, February 27. You can drop off donations at school on Thursday, January 28. Stay tuned for more information from the HSA Online Auction Committee.
Tuition Raffle
NUT Coupons
January–May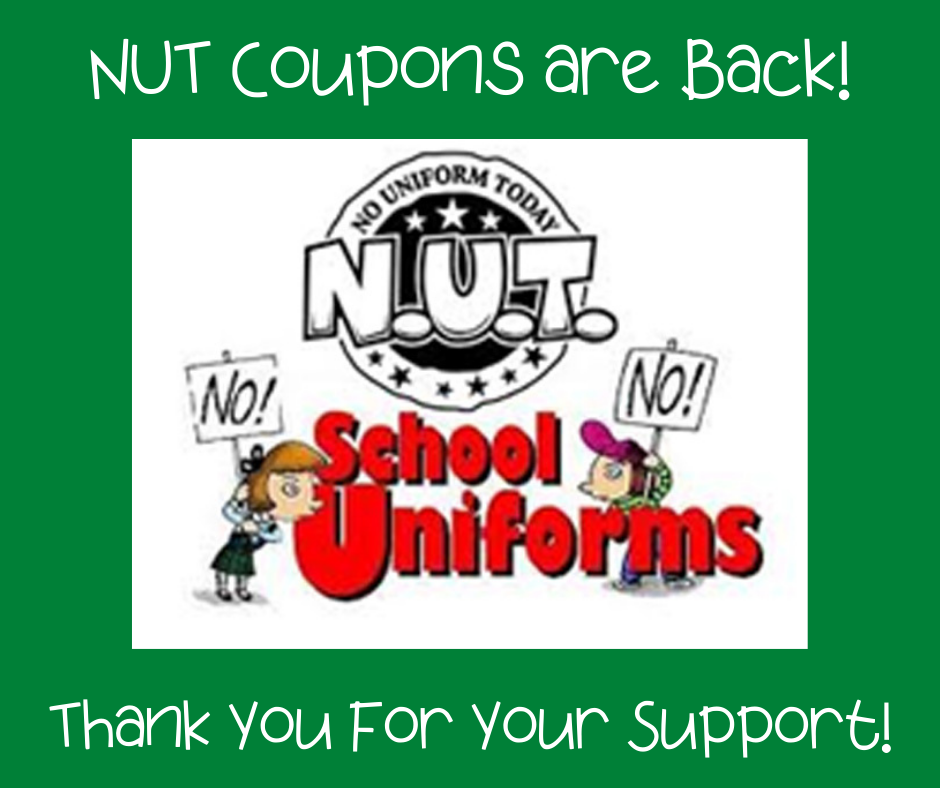 Your child can dress down with these no uniform today (NUT) coupons. There are five, fun-themed days, one each month starting January through May where our students can dress the part without putting on their SRS uniform.
We announced our NUT coupon themes and they are sure to make for five fun-filled 'NUTTY' days for our SRS students!
January 29: Comfy Cozy Day
February 26: Wacky Tacky Friday
March 26: Student Choice Day
April 30: Sports and Sparkle
May 28: Pajama Day