Enrollment for the 2023–2024 School Year is Open!
Thank you for your interest in St. Rita School. It pleases us to know you are considering our school, and we look forward to meeting you! Applications for the 2023–2024 school year are now available using the links below. Questions can be directed to our Admissions Director, Joanne Bruno, by email or by phone at (203) 248-3114. You may also use our inquiry submission form, and Mrs. Bruno will be happy to contact you.
St. Rita School welcomes students of all religions, races, and ethnicities at SRS. We determine our decision on admission for all qualified students by the administrators based on the best interest of the individual student. Priorities for enrollment include the following: a child enrolled in the St. Rita Early Learning Center, a sibling of a St. Rita School student, and a parishioner of any Catholic Church.
We can't wait to meet you and share with you why St. Rita Students shine!
Inquiry Process:
Please begin with our online inquiry form.
Admissions Process: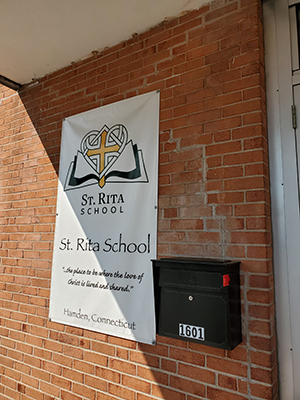 We are excited to begin the admissions process with all prospective families, and we look forward to meeting our new students in person very soon!
To begin enrollment at SRS, please complete the application and PreK form, if applicable. The following items must accompany your application (and PreK form):

A $25 non-refundable application fee
A copy of your child's birth certificate
A copy of your child's baptism certificate (if applicable)

The $25 application fee should accompany all relevant hard copies, or be dropped off at the main office, if your paperwork was emailed to the admissions office. The main office is open! Please come into the building or use our secure mailbox located outside the building to the left of the main entrance. All admissions paperwork can be brought to the main office between the hours of 9:00 a.m. and 4:00 p.m. Monday through Friday.

Should you choose to use the USPS for all of your items (not recommended), please mail them to the below address:

St. Rita School Admissions
1601 Whitney Avenue
Hamden, CT 06517
Attention: Joanne Bruno


Upon receipt of your application, our Director of Admissions will contact you regarding next steps and the availability of our admissions packet including:


Release of Records Form (Grades 1–8), Financial Standing Form, and Student Evaluation Forms for students entering Kindergarten or Grades 1–8

Application will also require copies of :


First Reconciliation Certificate (Grades 2–8 if applicable)
First Holy Communion Certificate (Grades 2–8 if applicable)

Forms mailed by current school to St. Rita School:

Financial Standing Form (current Catholic and private school students only)
Kindergarten Student Evaluation Form
Student Evaluation Form (Grades 1–8)

Our Director of Admissions will review all applications and will schedule student assessments for Grades K–8.


We will send an acceptance letter and registration packets via mail. We require a $250 non-refundable deposit to secure your child's placement.