Thank You for Your Support
We know these are trying times and we are grateful for your support of St. Rita School. It is the generosity of our many parents, grandparents, friends, and community members that enable us to continue to provide a high-quality education academically, socially, and spiritually. Every donation, regardless of size, makes a difference in the lives of our children.
There are many ways you can give and we thank you in advance for your continued support of our school.
Donate Online
We welcome online credit card donations through our secure Paypal account.
Donate With Check/Money Order
You can also mail a check or money order made payable to St. Rita School to:
St. Rita School
1601 Whitney Avenue
Hamden, Connecticut 06517
The Great Give
St. Rita School participated in The Great Give 2023, a greater New Haven community event that supports non-profits. With your help, our school had donations totaled $1,735 from 26 donors. Thank you to our donors for participating in The Great Give.
Legacy Bricks Fundraiser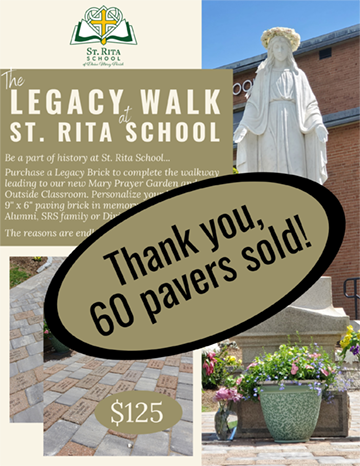 Legacy Bricks Fundraiser
Thank you! We sold 60 legacy pavers to date. Orders for the legacy brick walk will return in the spring.
The legacy walk at St. Rita School is hosting a fundraiser! Please be a part of history at St. Rita School by purchasing a legacy brick to complete the walkway leading to our new Mary Prayer Garden and outside the classroom. Personalize your beautiful nine inch by six inch paving brick in memory of a loved one, as alumni, SRS family, or Divine Mercy parishioner. The reasons are endless, your support is priceless! The cost of a brick will be $125.00. To order your legacy brick, complete the order form and submit your payment per brick to St. Rita School. Be sure to order now as quantities do have a limit!
Student Emergency Relief Fund (SERF)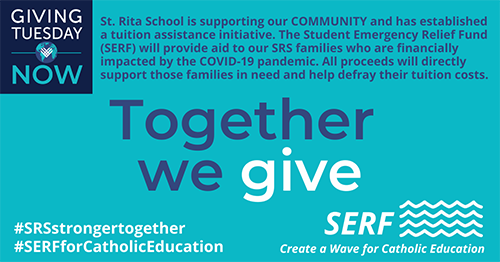 #GivingTuesdayNow is a global day of giving and unity and a time to stay connected and heal. For St. Rita School, it's about supporting our community during the unprecedented pandemic and every day thereafter.
In keeping strong to our mission of unity in community, we have established the Student Emergency Relief Fund (SERF), a tuition assistance initiative to support our school families. All SERF proceeds will directly benefit our SRS families in need of financial assistance amid the COVID-19 pandemic and beyond.
When you give to SERF, you not only support the culture that is St. Rita School but Catholic education as well.
Please make checks payable to "St. Rita School", with a notation referencing SERF.
Crusaders Care Fund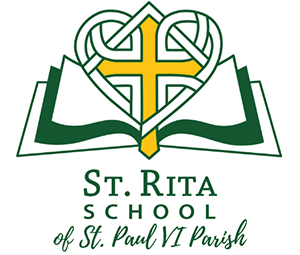 Dear Alumni and Alumni Families,
St. Rita School is celebrating 65 years of academic excellence, Catholic heritage, and community service. We pray this year finds you healthy, happy, and with the ability to give back to SRS. There are many ways you can give, whether it's a monetary, tax-deductible donation (no amount is too small) or by granting the wishes of our dedicated teachers and staff who are currently creating their birthday wish lists (available on Amazon and coming soon). However you choose to give, your gift is always appreciated.
On behalf of Mrs. Tiezzi and our faculty and staff, we thank you for supporting St. Rita School.
Sincerely,
Joanne Bruno
Advancement Director
P.S. We love our alumni! Please take the time to complete our alumni news questionnaire located on our Alumni page. We would like to share in your successes and your amazing adventures.
ShopWithScrip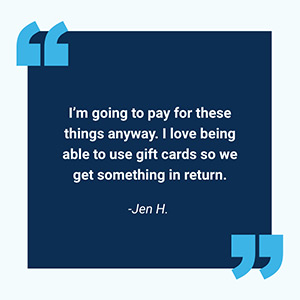 St. Rita School is continuing this year-round fundraising initiative with our ShopWithScrip gift card program!
Scrip turns your everyday shopping into earnings for our school because SRS will earn money every time you shop. From your purchases of the over 750 brands of gift cards available, St. Rita School will automatically receive a rebate percentage from each card. There's a gift card available for every occasion, such as groceries, gas, dining out, home improvement projects, clothing, travel, and so much more!
There are two ways to get started: you can view our Scrip flyer, or go directly to the ShopWithScrip website. We have a new Scrip Enrollment code: L243EA4A61315. You must set up your personal pay online account, PrestoPay, to secure your gift card purchases. Physical gift cards will ship to St. Rita School, Attention: Advancement Office. We will notify you when your gift cards have arrived.
Questions? Please email Kristen Amarone.
Happy shopping!
Does Your Company Offer Volunteer Grants?

Volunteer grant programs, also known as "Dollars for Doers" programs, are corporate giving programs created to encourage volunteerism in communities where employees live and work. Through these programs, companies provide monetary grants to organizations where employees volunteer regularly.
Please take a moment and ask if your employer participates in a volunteer grants program. Your time and talent at St. Rita School could turn into dollars for our school! Questions? Feel free to contact Joanne Bruno.