About Home & School Association
Founded in 1958, the Home & School Association (HSA) is a dedicated, highly active organization and a vital part of the St. Rita School Community. It organizes and supports both "fun" and "fundraising" events. The purpose of the HSA is to support quality Catholic education for the children at St. Rita School through a collaborative volunteer/school network of communications and activities. Our volunteers also participate in classroom projects, lunchroom supervision, library support, and as classroom mothers and fathers. The HSA works to promote the educational, spiritual, cultural, and social welfare of our school. This organization traditionally raises $100,000 in support of our school. Please take a moment to read our constitution to learn more about our objectives, laws, and responsibilities.
We require all St. Rita School (SRS) volunteers to be VIRTUS trained and have a background check on file. If you need forms for VIRTUS or a background check or you would like more information, please call Sr. Anne in our school office at (203) 248-3114.
Attention Stop & Shop Shoppers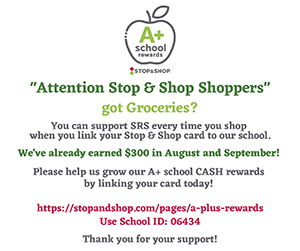 A+ school reward presents an opportunity for you to support St. Rita School while grocery shopping. Simply link your Stop and Shop card to our school. We've already earned $300.00 in August and September! Please help us grow our A+ school cash rewards by linking your card today! Use our school ID: 06434. Thank you in advance for your support.