HSA Upcoming Events
We are excited to begin the 2023-2024 school year, and we are encouraged and look forward to the return of many of our SRS traditions.
Santa is Coming to Town! on Saturday, December 9 in the St. Rita gym from 10:00 a.m. to noon
Santa Is Coming To Town!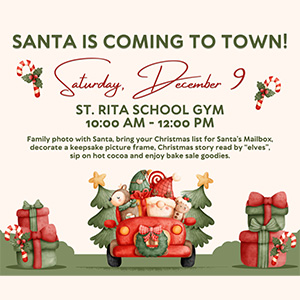 The HSA presents Santa is Coming to Town! on Saturday, December 9 in the St. Rita gym from 10:00 a.m. to noon. Wear your Christmas attire or matching pjs for a family picture with Santa. Bring your Christmas list for Santa's special mailbox, decorate a picture frame keepsake, art's table, have your children sit for a Christmas story read by a volunteer, sip on hot cocoa, and enjoy goodies from the bake sale all while jamin' to Christmas music!
The cost per family is $20 for one child or $25 for two or more children. Sign up online by November 30. Payment though Blackbaud will be deducted in January.
A yummy bake sale will be available! Cash only, small bills preferred!
Don't delay! Space is limited to 50 families! Priority will be given to St. Rita families. HSA will open spots accordingly. Pictures will be sent digitally!
Advent Wreaths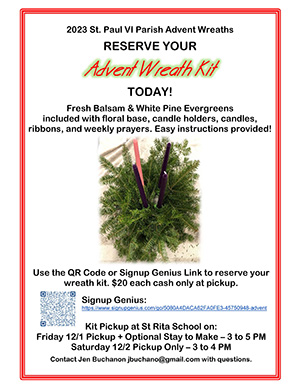 The St. Paul VI Parish Advent Wreaths for 2023 are available for pre-order! The kits consist of fresh balsam and white pine evergreens and include:
Floral Base
Candle Holders
Candles
Ribbons
Weekly Prayers
Easy Instructions
Use the QR code on the 2023 St. Paul Advent Wreath flyer, or visit the Signup Genius website to reserve your wreath kit. The kits are $20 each, cash only at pickup. You may pick up your kit at St. Rita School on:
Friday, December 1 - Pickup and Optional Stay-to-Make from 3:00 to 5:00 p.m.
Saturday, December 2 - Pickup Only from 3:00 to 4:00 p.m.
Contact Jen Buchanon with any questions. Reserve your Advent Wreath Kit today!