HSA Upcoming Events
We are excited to begin the 2021-2022 school year, and we are encouraged and look forward to the return of many of our SRS traditions.
Gingerbread House "Fun"raiser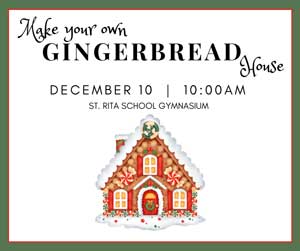 The second annual gingerbread house "fun"raiser is back on Saturday, December 10 at 10:00 a.m. in the school gymnasium. We will provide everything you need to build your own gingerbread house. All you have to bring is your creativity. Participants must register by Sunday, December 4. Please see our gingerbread house flyer for more information, and let the fun begin!